20 Traffic Tips to Crush It On Pinterest
Are you having a tough time getting traffic to your blog or website? It's tough out there. You work and work to see little results.  It's easy to just throw money to it, buy ads, work with agencies, to get traffic but there's a better way!  Read on to learn our 20 traffic tips to crush it on Pinterest. P.S. You can start doing these today and it's free. Check it out.
I love, love, love Pinterest! If it weren't for this awesome social network, I wouldn't be able to be a stay at home mom. I wouldn't have the platform that I do to teach others how to start a blog.  There are some really easy things you can do with Pinterest to drive bucketloads of traffic to your website.
Your Pinterest Profile
1.) Fill out your profile
You want to COMPLETELY fill this thing out, guys. Add your website name, url, location, and fill it with keywords. Can't figure out how to work keywords into your description. Just add them at the end.
2.) Get a business account
This is simple and free. Getting a business account gets you a ton of cool benefits like looking at analytics, Pinterest views, and more.
3.) Keep an eye on your analytics
Monitor your analytics as often as you can so you know how you're performing, what changes you should make, etc.
4.) Add your website
Duh, right? You add your website. Don't forget this. It's easy, it's free, it makes sense. Nuff' said.
Optimize It
5.) Keywords
We talked about keywords above. Here's where they should go:
In your profile
In pins
In your boards
How to find keywords? Use Pinterest's smart search feature to your benefit
You can start to type "blogging" and see how Pinterest tries to fill in the rest of the phrase. In doing so, it will bring up key phrases like: blogging for beginners, blogging, blogging for money, etc. These are keywords! These phrases are what Pinterest users are searching for.
Use they keywords anywhere and EVERYWHERE you can on Pinterest: profile, boards, pins.
6.) Use your business name on your account
Like this:
See how Elna uses her blog name in your profile. Notice her profile? Those keywords: how to start a blog and grow blog traffic. Smart, smart, smart. Look at her profile description. More keywords: help moms, create a business from their blog.
Your Boards
7.) Set up at least 10 boards
You want to fill out your Pinterest profile as much as possible. Aim for creating 10 boards (minimum) but more is better.
8.) Fill your boards with at least 10 pins
Make sure each board has at least 10 pins. Again, more is better.
9.) Join group boards
Group boards are the secret sauce. Instead of sharing pins to just your audience, if you are in a 1,000 member group board, you can potentially reach each users audience. It's pretty incredible. There's no limit on how many to join. The more the better.
To give you an idea, I tend to aim for joining at least 50!
10.) Create group boards
Just as good as joining boards, is creating your own! It's a lot easier than you think.
As a group board admin, you make the rules, you are in charge of who can join, you have the power to recruit folks to join your board, etc.
Make one board, make multiple. More is better. It gives you more visibility as a business person. To get an idea on what rules and requirements you should set, just look at existing group boards.
Simple rules: niche-based pins and instructions on how to request to join.
You can make it more complex here by limiting the number of pins allowed daily, by users or requirements new members must meet before joining, like pinning 20 of your pins.
Just some ideas.
11.) Cool board covers
You want your Pinterest account profile to be cohesive and organized. What better way to get organized than creating cool board covers.
You can do this easily using Canva.
I use the social media template:
And then, just make a pretty cover, changing out the board cover name, according to the board title. Easy.
You can also just use images that have a cohesive feel, like here:
You can see the common theme above is white background with styled photography, with pink in it. You can do something like this.
Here's an example of board covers that were made:
Your Pins
12.) Make long pins
Ok, so most of the pins you see on Pinterest will look like this (a long pin):
You pin displays better in this format.
You will find some horizontal pins and square pins. Those tend to do not as good.
To make a long pin, the easiest way is using Canva's Pinterest template. You pick the template and start designing. That is all.
13.) Make text overlay pins
Text overlay pins are pins that have an image with text over it, like every single pin in the image above. This is super wasy to do in Canva. You just grab text, change the size and font to meet your liking and continue designing.
14.) Make multiple pins per blog post
Designing multiple pins per post accomplishes a few things:
A/B tests your pin designs
Allows your content to circulate faster across Pinterest
Think about it. How do you think 2 pins on your post will do, compared to just 1 pin? Twice the exposure? I aim for 2-3 pinnables (a Pinterest designed pin) per post.
15.) Keyword rich captions
And, we're back on keywords. Use these in the captions of your pins.
16.) Social share buttons enabled for easy pin sharing
Critical! Get social share buttons. I use the ones from the guys at Warfare Plugins. It's called Social Warfare and it looks like this:
17.) Pin share threads on Facebook
Facebook groups! Join some for bloggers and focus on Pinterest share threads. With these threads, you can submit your pin and get it repinned by participants. In exchange, you usually do the same for them, repinning their pins.  It's super easy.
One group to get you started: Pinning Ain't Easy.
Your Activity
18.) Touch Pinterest daily
Be active and engage. Pinterest will reward you.
19.) Pin your content + others content
Pin your content, mixed with others' content.  I've pinned only my content and I've pinned my content mixed with others'. Better results come fom pinning your content and others.' Substantially more.
20.) Use automation software to save time
Tailwind is highly recommended. You can set your pinning on a schedule and it runs. It takes no time to schedule and it's so affordable. Check them out.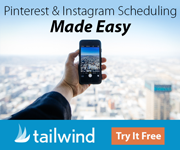 Wrap Up
There you go, 20 crush it Pinterest tips. These tips really do work. Do you have some best practices to share? Don't be shy. Comment down below so we can hear from you.